"Immerse yourself and be transported"

"I just wanted to tell you that my favorite thing about your paintings is your use of deep, vibrant color. As I sit here in my living room looking at "Reflected Light", I have the same reaction I had when I first saw it in North Adams: deep, visceral joy."
Susan P.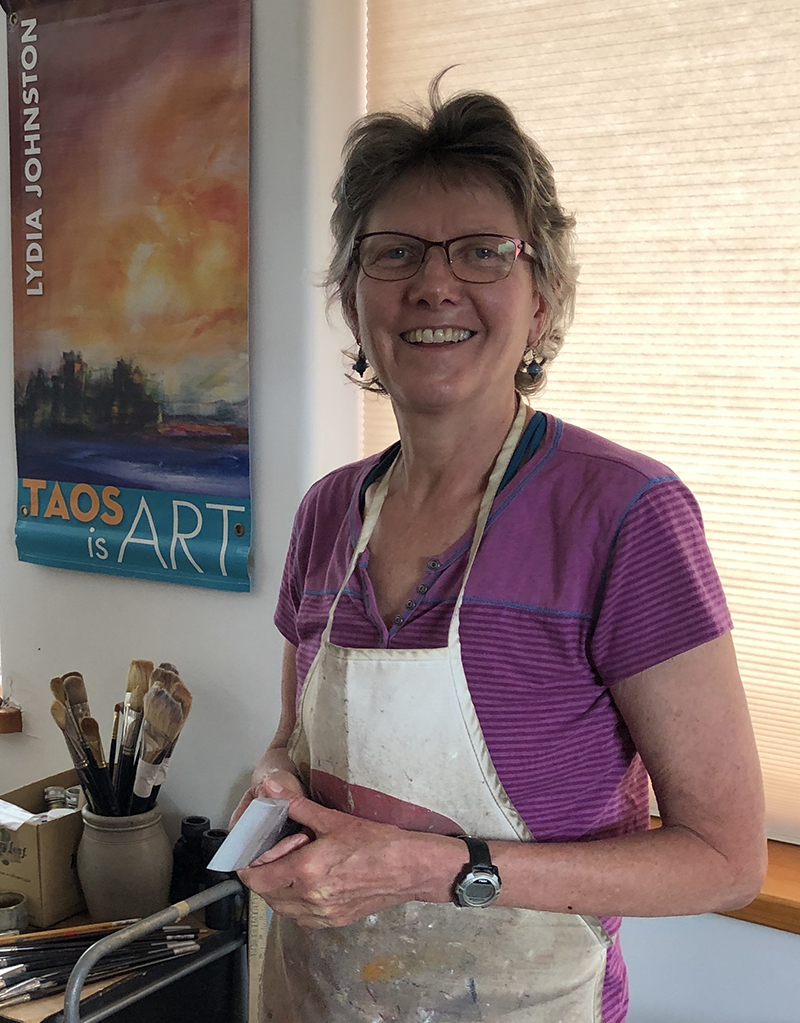 Based in Taos, New Mexico where I am inspired daily by the magical light, I paint with rich vibrant colors. Color creates the light in my art. Immerse yourself and be transported, it's the perfect art for your home or office.

My paintings are becoming more abstract. I create a sense of place without providing all the details, drawing you back continually to find something new. I want my paintings to have mystery, to allude to the familiar while remaining ambiguous. By hinting at things, I hope to trigger your imagination, allowing you to connect in a profound way.

In my studio, I start by laying on color, yellows, oranges, purples, blues. I want lots of layers, they add translucence and luminosity, depth and a richness. In addition to brushes, I work with wide color shapers, bowl scrapers, palette knives, all kinds of tools; these give my work the distinctive angled and carved markings that add vitality and complexity.

I have been working with color and design since 1985. I started in fabric, creating my own designs for art quilts, and painting and dying my materials. Color has always been my passion.

In 2003, I switched to oil paints from a desire to have more control of my colors. The serendipity of the fabric dying process was exhilarating, but unpredictable. Painting with oils gives me the control over color I was searching for.

For thirty years I worked in southwestern Vermont. In 2015 I moved to Taos County in northern New Mexico where I am delighting in the big, open skies and incredible light. My work has been exhibited throughout the country and hangs in many private collections.

Selected Exhibitions
• "Three Visions",
Blumenschein Museum
Taos, NM, 2019
• "Scratching the Surface",
NAACO Gallery
North Adams, MA, 2013
• "Seduced By Color",
Deborah Davis Fine Art
Hudson, NY, 2008
• "Fencepost Memories",
Lenox Gallery of Fine Art
Lenox, MA, 2007
• Bistango Exhibit
Irvine, CA, 2005
• "Seasonal Lights",
Atrium at 125 High Street
Boston, MA, 2004
• Monmouth Festival of the Arts,
Tinton Falls, NJ, 2001, 2002
• Thirteen Moons Gallery,
Santa Fe, NM, 2000
• Gross McCleaf Gallery
Philadelphia, PA, 2000
• Bradiggins Arts Gallery,
Hillsborough, NC, 2000, 2001
Awards
• Millicent Rogers Museum Show
Taos, NM
People's Choice First Place for 2-D, 2021
"Rising Up"
• Taos Fall Arts Festival
Taos, NM
2nd Place Award, 2019
"Out Of The Blue"
Represented By
•
Magpie Gallery
218 Paseo del Pueblo Norte
Taos, NM
•
AZ Fine Art Gallery
199 Boylston Street S237A
Chestnut Hill, MA
• The Lenox Gallery of Fine Art,
Lenox, MA
• NAACO Gallery,
North Adams, MA
• Deborah Davis Fine Art,
Hudson, NY
Want to hear about upcoming events?