L

YDIA

B. J

OHNSTON


O

IL

P

AINTINGS

See my newest paintings first on Instagram:

lydiajohnstonartwork

Welcome to Lydia Johnston's Art Gallery. Her oil paintings are full of rich, vibrant colors. She creates a sense of place without providing all the details, drawing you back continually to find something new. Sink into her art and be transported.
After being asked many times if I would consider making prints of my artwork, I am pleased to announce the release of limited editon fine art giclée reproductions of some of my recent paintings.

The original oil paintings are 30" x 40". These reproductions are produced directly from the original paintings using the highest quality archival pigments on acid-free 100% cotton canvas or watercolor paper.

They are available as 22" x 29" giclées on 100% cotton canvas (for $200), as well as smaller 9" x 13" prints on acid free 100% cotton fine art watercolor paper, 300 gsm (for $85).

The Giclée reproduction captures all the tonalities and hues of the original painting. Giclée (pronounced "zhee-clay") is a French word meaning "a spraying of ink". The giclée printing process provides better color accuracy than any other means of reproduction. Displaying a full color spectrum, giclée prints capture every nuance of an original and have gained wide acceptance from artists and galleries throughout the world.

Each print is signed and numbered by the artist, and provided with a Certificate of Authenticity.

All of the artwork is for sale.
If you would like to purchase any of the artwork or would like more information or pricing,
please contact the artist by email at
art@lydiajohnston.com.


Click on any image to view a larger image.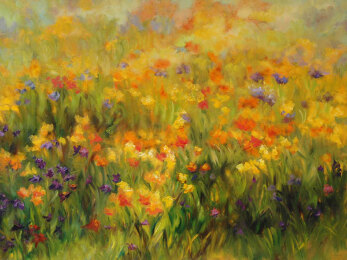 Liquid Sunshine
40" x 30"
sold
Tangerine Dream
40" x 30"
sold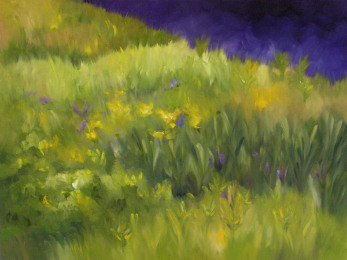 Sapphire Dreams
40" x 30"
sold